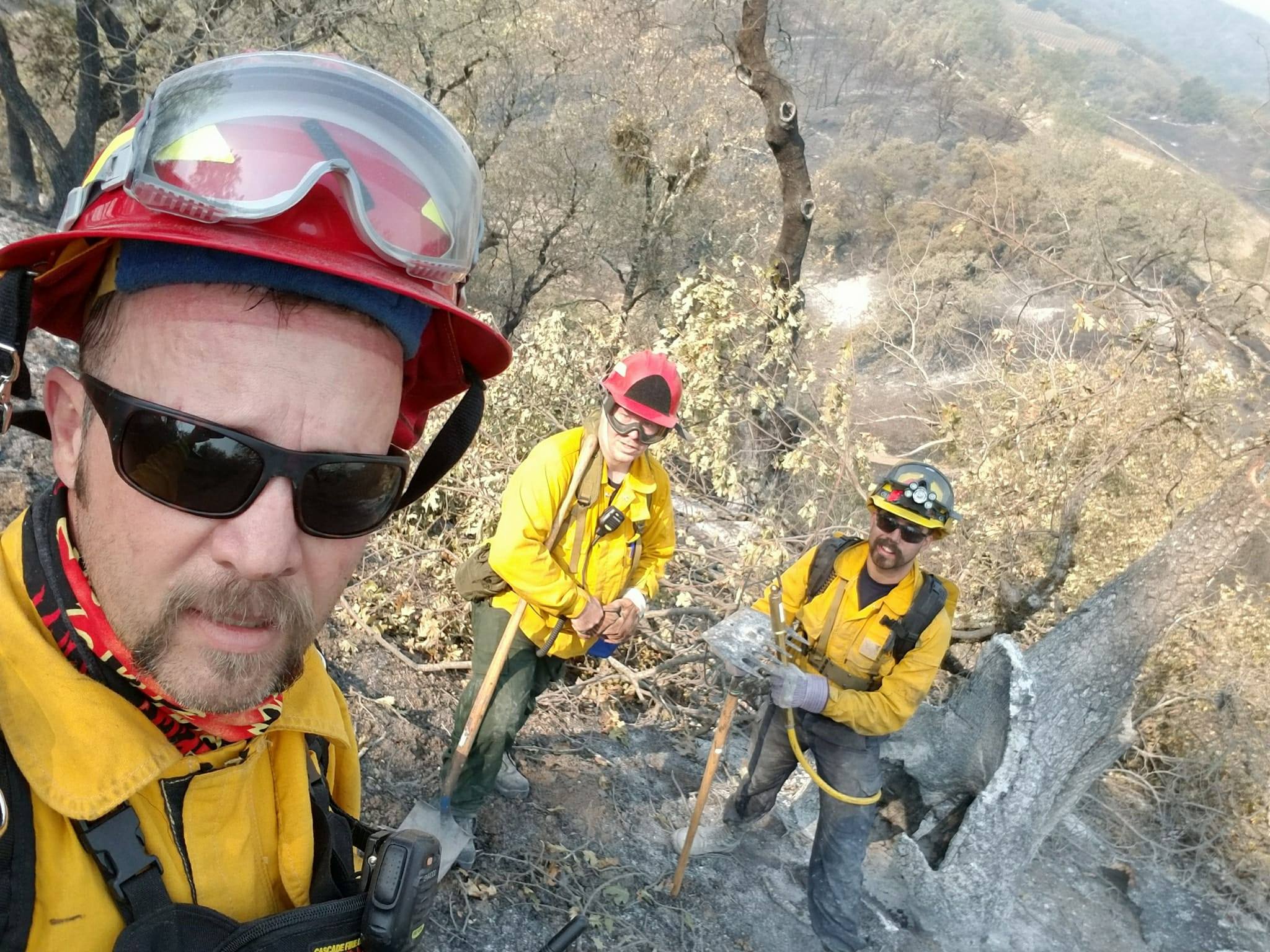 This past month saw California erupt with 20 wildfires. While there was a lot of destruction, there was a lot of great outpouring of goodness. As a volunteer firefighter, I was asked to help protect some of the homes threatened by the fires in and near Santa Rosa. Our engine company from the Pleasant Hill – Goshen Fire District, E521, was there for a week and we met some really great people. I'd like to take a moment and relate some of our encounters with the great citizens of Santa Rosa.
We received a one hour notice to prepare for the trip. In that hour we packed personal gear (clothes, sleeping bags and food supplies to last up to three days in the field), restored wildland fire equipment that had been removed from the engine (Oregon's fire season had ended about two weeks before with a return of the Fall rains), and coordinate with four other departments in our strike team for departure at midnight. In the haste we managed to miss a few items that we normally pack. This led us to some shopping while we were not on the lines and some interaction with the local community. On our way into the a store, a lady stopped us with a "Thank you for coming to help" and offered us $40 to buy lunch. One item forgotten was a cooler to store ice and cold drinks. Unfortunately the store we stopped at first didn't have any as it was after the normal picnic season. As we were leaving empty-handed another lady asked what we were looking for. When we told her a cooler and that the store didn't have any, she asked where we were staying so she could bring us one of hers.
Throughout our stay, people came by the camp with toiletry items, coffee, snacks, clothing, playing cards and massages just to name a few things. Even in the field, one home owners association opened their community center for use as a forward command post. Members sent homemade foods for our enjoyment. They even threw a dinner party for our strike team on an off day. What a delight!
I've included some media taken by District Chief Barnhart. As the engineer (driver) it was a little difficult to shoot pics and drive at the same time. The news outlets did a good job of presenting the destruction that took place, so I'm showing some of the support rallied from across the world (including a crew from Australia) to combat the flames. And finally, a big thanks to FF Tanner Smith and DC Matt Barnhart for being a great crew.
Here are some short videos from the deployment.